About Us Viraasi Studio Pvt Ltd
Viraasi Studio Pvt Ltd is
all set to establish itself as Indian jewelry selling brand with its launch in the mid of 2021. The brand is set to bring a range of fusion jewelry that celebrates culture with modern-day needs. The brand aims at bringing to the Indian stage affordable, classic, and exceptionally designed jewelry products.

Our History
Taking lessons and inspiration from the rich Indian culture, the idea of Viraasi was conceived. It aimed to bring the rich Indian heritage to the international stage. We are looking forward to establishing ourselves as the top fashion jewelry seller in India.
Our Story
Jewelry in present day is much beyond the simple gold and silver objects, they add to the personality and the overall look of the person. Viraasi targets being your to be the spot you go for in vogue, superior grade, this-is-me gems—regardless of what your identity is. Since everybody has a dash of the traveler in them and more than one side to communicate. Who needn't bother with something exemplary and something popular? Something for entertainment only and something for those exceptional days in life you'll generally recall. Also, remember something for your loved ones.

How would we assemble our assortment? We pay attention to what you need—and utilize our finely sharpened design sense. (Indeed, it resembles a Spidey sense.) We watch out for the style websites and design magazines and the other on deals information, so we see what design directs as well as what individuals fall head over heels for and purchase.

Then, at that point our group of creators and makers convey the pieces you need—to our quality levels and at our incredible cost—in days and weeks, not many months. We invigorate our determination constantly, as well, so there's in every case new motivation to plunge into.

You might see our most recent motivation in our logo and new mark piece. They express interminable karma and love—two things everybody can utilize somewhat more of.

At Viraasi, we do what we do as such you can show what your identity is.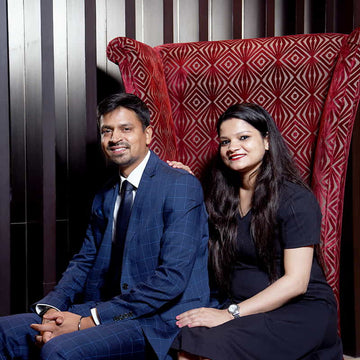 Urwashee Saxena, the mastermind behind Viraasi, comes from a very small town in India. Since childhood she was fascinated with the jewelry the ladies at home and around wore and wanted to take the element of every household to the international stage in its purest form.
She completed her BSc. in biotechnology and MBA in FINANCE and Marketing from a top-rated B School NOIDA.
She worked for an MNC for a short while but her passion for the jewelry kept calling her. She joined as a member of Core Sales team in an MNC and gained experience and learning on how the market works. In 2014, she was married in the Pink City, Jaipur where her admiration for the jewelry got stronger with the variety the city had to offer.
Taking up a business was more of a challenge because it never ran in her family.
She took up the challenge and after a while decided to set up her own store online that would take the culture of Indian families to the international stage. And so Viraasi was conceived and with constant efforts brought to its current form.